Miss Quincy's Outstanding Teen 2017
Sophia Marcolla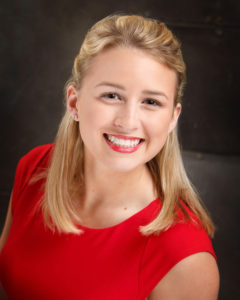 Age:  17
School:  Quincy Notre Dame
Platform:  Be the Miracle – Get Involved is designed to inspire others to get involved and make the world a better place.  Most recently I have partnered with the United Way of Adams County to promote their website "Get Connected" where you can get involved in your community and sign up to volunteer with local organizations in need.
Scholastic Ambitions
I plan to graduate as the Valedictorian of the class of 2018 at Quincy Notre Dame High School. I will attend a university and continue on to Medical school.  Thought I have not specifically chosen a specialty, both of my grandfathers have had strokes.  The study of stoke prevention and treatment is one area that does interest me.
Scholastic Honors:
4.0 GPA; Class Rank:  #1; "A" Honor Roll every report card; 4 A.P. classes; 3 hours college credit; Society of Scholastic Achievement;  Character of Champion leader, three times; QND Quiz Bowl; Illinois Extension  Leadership Academy; Rita Pausch Memorial QND Scholarship; St. Peter Outstanding Student; St. Peter Outstanding Academics Awards: Math, Science, English, & Reading
Greatest Non-academic achievement
I received the Governors Volunteer Service Award. This award recognizes individual volunteers to who demonstrate the importance of volunteerism and community service in the State of Illinois. I founded Picks for Pups, where I made guitar pick shaped necklaces out of recycled gift cards and sold them for $1. I donated over $1000 to the Quincy -Humane Society. I was honored at a ceremony at the Governor's mansion in Springfield, Illinois.
Hobbies
I love to take pictures. The walls of my bedroom are filled with great moments with friends and family as well as the places I have visited.  The best picture tells the story with a need for words.
Clubs and Organizations
Varsity Cheerleader
QND Soccer Team
Varsity Scholastic Bowl Team
Executive Officer: Student Body
Junior Class Secretary
Student Council
Homecoming Parade Coordinator
Character of Champions delegate
Society of Academic Achievement
Key club, secretary
Kindness club member
SADD club member
Secret Club
Quest team mentor
Found Youth Group Mentor
Christian Concert Staff
Hands and Feet of Christ
Lifeguard –Sheridan Swim club
Girl Scout
G.S. Illinois Board of Directors
American Legion Auxiliary Jr member
Illinois Veterans Home Bingo Volunteer Humane Society Volunteer
Founder of "Picks for Pups,"  2016-17 Youth Leadership Council –National Rural Electric Cooperatives Association
2016 Youth to Washington Delegate –Association of Illinois Electric Cooperatives
2016 A Day at the Capital QND Representative – Adams Electric Cooperatives
Important thing I've learned:
You can do anything you set your mind to. The Miss Quincy's Outstanding Teen pageant was the first pageant I've ever participated in and I'm so honored to have my title. This just proved to me if you work hard and do your best, then you can accomplish anything.
One thing about me people may not realize
How passionate I am about being an American.  In 2014, my Pop (my Grandfather), had a stroke.  Unfortunately, I was not able to make it to the hospital before he passed away.   I didn't have a chance to tell him one last time, how much I loved him and hear him say "I love you too, Soph."  I realized, that you can't take anything for granted; you have to make the most of everyday and let the people in your life know how much you love and care for them.   I have always been a volunteer in my community, have over 700 service hours just since starting high school,  but when my Pop died, I decided to honor his memory by getting involved and serving area veterans, as he was a veteran of the Air Force.  I joined the American Legion Auxiliary as a Jr member and my world was completely changed.   I started by doing monthly Bingo at the IL Veterans Home.  Sometimes I simply play cards, or just listen to stories.  I serve Holiday meals for the Veterans and their families.  I attend Honor Flight return celebrations, and make bags for Homeless Veterans.  It started as a way pay if forward to my Pop, but it has allowed me the honor to get to know some pretty special men and women.  In America, we are the land of the Free, because of the Brave. These brave men and women will never replace my Pop, but could be someone's Pop, and it's important that they know that they are cared for.   Looking back I find it ironic, I started out to serve Veterans, now I realize, they have already served me with their service to our country.  Isn't it amazing how the world works?